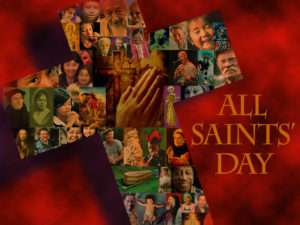 An All Saints' Day hymn I wrote in 2011 to the tune of, "Earth and All Stars."
1:
Night into Day, Breath into clay
Father Almighty, You made all things good
Forked tongue and lie, by sin all die
Mankind undone by the fruit from the wood
Hostile the serpent with Eve and her seed,
You vow to save us with Your Son's blood.
2.
Word became flesh, laid in a crèche
Ancient of Days now a baby in arms
Flesh nailed to tree, grave, victory!
Jesus released us from sin and its charms
Head of the serpent crushed under His heel,
The old accuser Jesus disarms.
3.
Chief Cornerstone reigns on His throne
Spirit comes forth from the Father and Son
Saints from all lands by His commands
Sent forth like branches that all may be one
Rooted by faith in the Word of the Lord,
Speaking His truth that hell might gain none
4.
Trunk lifts us high, points to the sky
Father, we thank You for those gone before
Who shared Your love that we sing of
That generations join Your holy corps
Open our hearts, Lord, to tell all the world
That all be grafted to the vine's core.
Lyrics for Root of the Saints by Strength and Song Publishing licensed under a Creative Commons Attribution-NonCommercial-ShareAlike 3.0 Unported License. Tune: "Dexter" by David N. Johnson © 1968 Augsburg Publishing House. Used by Permission: LSB Hymn License .NET
LSBX File for Lutheran Service Builder