Palm Handheld Resources for pastors
Suggested
Resources for Palm-Weilding Pastors
Handheld computers such as those made by
PalmOne
,
&c. are invaluable ministry tools. If you use a
Palm
OS
handheld, here are a few apps you really should look into having. If
no link is listed, the best download sites for Palm software, including most
or all of these, are
PalmGear
,
Handango
,
PalmTracker, and
Freeware
Palm
.My only hardware tip is this: if you're going to buy a Palm, make
sure it has memory-expansion capabilities so you can store multiple
Bible modules on the extra memory card.

Note: If you're considering purchasing software from 9.95 Software,
please read
this.

Note: Little, if any, of the items on this page are specifically LCMS. No claims of doctrinal content are made. The Bibles, however, are in total agreement with our doctrine.
Bible Apps
There are several Bible apps available for the Palm. Here are some
I've used. Check out this
review for more on 5 of them.
BibleReader (Note the
InterCaps): Free (although a new beta is coming out that will have
extra features, like notes, that will cost extra) Some modules are
free, including the TR Greek NT, and it handles the Greek without
installing extra fonts, but it searches very slowly, about 20
chapters/second on my Palm IIIxe. (A new beta project is working on
improving that speed.) Lexicons are available for a price with the
KJV or NASB. Hebrew & LXX is now available, and they have a nice
Gramcord Greek, but they cost. A free parsed N27 Greek is also
available. This is the app I use. Many new features coming in a major
update, just around the bend.
God'sWord (Formerly Bible Reader): All modules are free, but not as
many available. Greek & Hebrew are available, but Hebrew
especially requires several hoops to jump through to get it to
display properly, and even then, it's not perfect. Greek is not as
elegant as BibleReader. Allows display of 2 versions at once, but
both must have the same font. This is not a problem with Hebrew,
since the Hebrew font uses alternate characters, allowing English
& Hebrew @ the same time, but if you're displaying Greek and
English, you get either "en arch hn o logov kai o logov hn prov ton
yeon kai yeov hn o logov" or In
the beginning was the Word, and the Word was with God, and the Word
was God. Has WEB
available, my personal favorite translation. On my IIIxe, I kept
getting crashes & had to abandon this app, but I'll keep watching
for fixes. Search is equally slow.
PalmBible+:
Another Bible application for the Palm with lots of Bibles, including
the original languages & LXX with their fonts. It's also
skinnable, which is nice. (I'll look into making an LCMS skin.) I've
had a few resets from it, though, when using some of the larger
memory modules, especially in split-screen mode. Hopefully, future
releases will address this issue. Note that the Hebrew is available
free, but the text has no vowels. Parsed/Strong's numbered modules
are also available free. English translations are sparse–no
commercial translations available–but a tool is available to convert
text modules to PalmBible+ modules, so if you get ahold of a text
file copy of your favorite translation, you can convert it & use
it at no additional cost to you. Free English, German, Chinese, etc.
modules are availablehere.
Bible With You: Another
$hareware Bible application with lots of modules. Looks like you have
to pay for most or all of the modules separately, even those that
would be free for other versions, but check the site for details.
9.95Bible: Read
This.
There are lots of other Bible apps I haven't tried yet, but these
are the only ones with Greek, so I won't be trying the others. Read
the review
for more info, and feel free to use the link submission below to
submit information about more apps.
Other Ministry Apps
Connect: Add devotion/Bible Reading
schedule to your Palm Datebook.
Bible
Flash: Jot down verse notes while reading your Bible. Freeware.
BDicty
Bible Names, Greek Lexicon, Hebrew Lexicon: Dictionary files:
translate all the proper nouns in the Bible, and the lexicons you're
looking for. Lexicons use Strongs numbers for lookup. For lexicons, I
personally recommend the NASB w/ Strongs for BibleReader as a better
integrated product, but it comes with a fee.
Book of Concord.PRC: The Book
of Concord (Triglot English Translation) in Palm Doc format
Passages:
An app to sort your favorite passages into categories Freeware.
Prayer Warrior:
Keep track of prayer needs Freeware.
Personal MinistryAssistant: $hareware. Lots of features, an app-of-all-trades for
pastors.
Reading Planner: Set up a daily
Reading plan. Freeware.
BibleGameC:
Memorize the books of the Bible in order. Freeware.
SMS (Scripture Memory System): Memorize and categorize your
favorite Bible passages. Freeware.
Sermon apps: There are several Sermon helps apps available. If you're interested,
go get them from PalmGear by typing "Sermon"
in the Text field. Personally, I didn't find any of them that'd be very
helpful for Lutheran expository sermons. Somebody write one!!!
Time of Prayer: Combines
prayer list, journal, and sermon notes in one freeware package. A shareware
version is available with additional features.
Map Apps
Mapopolis: The app
is free, but you have to pay for most of the maps by county. Think of it as
Mapquest on your Palm. Great for visitation.
And if you use this link,
the first county is FREE!
Also links with Contacts5.
Earthcomber: Not as precise as Mapopolis,
but includes points of interest and is 100% free, maps too!
ROM Replacement Apps
Life@Hand: Not actually available yet,
but it'll be worth waiting for. This one app will replace your Datebook, Address
Book, Memo, and To Do apps. A must-have. (Price not yet set.)
LauncherIII: A replacement for the application
launcher (the "Home" button). Much more intuitive, easier to find stuff, and
nice bells & whistles. Free
ZLauncher: A replacement for
the Application Launcher. This is the essential app if you
have a color Palm with a memory slot, since it has a nice built-in
file manager and is updated every couple weeks. Highly customizeable,
and the cheapest good one out there: $12 $hareware.
Here are some ZLauncher Background Pictures I've made/converted. Submit
your own! Mac users, hereis a tutorial on how to make your own ZLauncher backgrounds.



Background Image 450×450


lcmspastorT3forZL.jpg (450×450) for all hi res, including Tungsten|T3


LCMSCrossBG.jpg for all
resolutions


lcmspastorcrossbg.jpg
for any resolution

lutherssealT3forZL.jpg
(450×450) for all hi-res, including Tungsten|T3

160×160
JPEG (Install on your card)
pdb (If you don't have
a card)


(320×320 for Hi-Res!)



lcmsseal.bmp.pdb



Luther's Pastoral Prayer (320×320) (JPG)



lcmspastorcross.bmp.pdb

Michrome
is a Low Resolution (160×160) skin for ZLauncher, which includes the
background image you see here. Updated 6/26/03 for ZL 3.x compatibility.More skins, including the "Old Glory" skin, are available at Infinity
Ltd.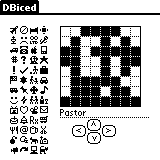 DateBk5:
Greatly enhances the DateBook and To Do apps, with minor
improvements for the Address Book and Memo Pad. A must have, IMHO.
$hareware Also, here is my B/W icons file for DB5, custom tailored for LCMS pastors. And here is my color
collection.
Today:
A "Day-at-a-glance" app. An extended replica of the PocketPC Today
screen. Very nice, skinnable, and free.
progect: This one doesn't
replace an app, but it works in conjunction with the To Do app. It
allows for hierarchical (multi-part) to do's and syncs with the To Do
database. Free
Address Uno: An address book
replacement that allows you to sort by first name and use the buttons
to navigate instead of the stylus. Great when you're trying to drive
at the same time, not that I endorse such distracted driving!
Free
Contacts5: An address book
replacement app. Lots of nice features, including skinnability and easy
(stylus-free: great for use while driving–you didn't hear me say that)
lookup. (Contacts5 is more functional by far in the stylus-free
department than Address Uno.) My favorite feature is being able to show
the spouse's name instead of phone # in the list and Mapopolis support
to instantly see where someone lives. Also adds 30+ extra fields so you
can add Baptism date, etc. $hareware Right
is the Michrome skin I designed for Contacts4, which has been ported,
along with others, to Contacts5. (& greatly improved)
Note: I helped with the beta testing of both Contacts4 & Contacts5.
It is an excellent app, and you'll find my name at the top of the credits
list. I don't work for the company, but I love their stuff.
ToDoNow!: A To Do Replacement app
from the makers of Contacts5.
eMail:
A nice replacement for Palm's Mail app. Free.
Desktop Apps & Conduits
E-mail & Expense conduitsfor Macintosh: For some stupid reason, Palm doesn't provide a Mac
conduit for the Mail and Expense apps. Guess what? QueSoft provides conduits
for Mail, Outlook Express and Entourage for both OS 8.x/9 and OS X. Lots of
nice features, too. They also have an Expense conduit to give you CSV or Excel
files. Most are free.
Organizer (Maconly): A replacement for Palm Desktop. It's shareware, but you
have to try it to believe its elegance. Consider this for the church
instead of Roll Call, Shepherd's Staff, or the like. It works great
over a network with multiple Palm-users, access privileges, etc. And
personally, I prefer it over NC/NUD because it syncs Memos, which
NC/NUD doesn't, although NUD/NC is cross-platform. Lots of eye candy,
too.
Misc. Must-Haves
Dated: Selectively display and delete Datebook entries, remove duplicates.
Freeware.
ezMaintain: By the makers of Contacts5.
Make batch changes to your address book. Shareware.
HKBook: Personal budget software. Freeware.
Holidays: Finally, an app that can do repeating events based on Easter! I hope
to eventually make a church year calendar for this, but meanwhile, make your
own!
quickSnap: The best & cheapest screen
shot app for OS 5. Shareware.
ScrollBar5: Does your Palm scroll too fast? This slows it down. Freeware.
snapCalc5: Pop up a calculator
in any app with this DA. Freeware.
Switch5: A recent applications menu for OS 5. Freeware.
Wecker: Set single and repeating alarms.
Freeware.
1_search: Search your address book database
for specific information. Freeware.
BackupBuddyVFS: Back up your data to
your SD/MMC card every time you turn it off. Shareware.
BatteryLog: Keep track of your battery
usage. Predicts when you'll need to change batteries next. Free
BDicty: A multi-dictionary app.
$hareware
Button Launch: Use a combination of buttons to launch frequently used apps.
Freeware.
Colorize and Khroma
are apps to change the colors of your Palm OS if you're sick of blue. I like
to change the colors according to the church year.
Cruise Control: The only
100% safe way to speed up your Palm. It's a minor improvement,
but it's free. (It speeded my Palm IIIxe by 16%.)
CutPaste5: Cut, copy, and paste larger blocks of text than just 1k. Freeware.
Ebooks can be downloaded from MemoWare
or Peanut Press or the
Baen Free Library.
CSpotRun:
A basic free doc reader.
HandStory: Reads not
only docs, but the memopad, pictures, etc. Good memopad
replacement. Desktop component for Mac or WinDOS converts images.
Paid upgrade available.
MobiPocket: A free doc
reader that can read HTML-formatted docs. Can get eNews, etc.,
too. Paid version also available with extra features like color
and pictures.
PalmReader: A
free Doc reader that can read eBooks off your memory card.
Drawing Apps
DrawIt: If you've used
Photoshop, you'll be familiar with the tools in this free paint
app. No, it can't import images, but it can export in WinDOS. One
of the most powerful Palm painting apps, and absolutely free.
Sketchy: A drawing app
that can also do animation. Free
Palm's Notepad app is excellent, especially with its desktop
component. If you don't need color, this one's for you. You'll do
no better.
DualDate:
Published by Palm, Inc. My wife is always wondering when I have
meetings, visits, etc. With DualDate, I can beam my datebook to her
Palm, and she can see what I have when. Private appointments show up,
but as "***private***". Perfect for keeping track of each others'
schedules.
FileZ: A free-but-powerful
file management app for those with memory sticks. Also handy for
deleting unneeded invisible files from old apps and beaming
"unbeamable" files & apps..
Fireviewer: The standard
free graphics viewer for the Palm OS.
HandyShopper:
Useful for shopping lists and so much more. Use it for packing lists
for trips, and any other checklist you could want. Unbelievably free.
A must-have.
Help!
combines text and pictures to teach you how to use your Palm Os 3.x – 5.x handheld.
This program was written to answer the common questions from new users of Palm
OS. Freeware.
JackFlash, JackSprat, etc.: Running low
on RAM? Would you like to squeeze another .5-1.5 MB out of your Palm for $20-27?
Download these demos and try them out (Get the JackSprat 2.0 beta). With JackSprat,
make sure you read all the documentation before using, though. These apps allow
you to make use of the Flash ROM that's sitting unused on your Palm. Cheaper
than a new Palm if you want to add just a few more Bible modules or something.
And if you don't use certain custom apps (like the "Welcome" app), you can delete
them with JackSprat, not to mention removing language support. On my Palm IIIxe,
JackFlash and JackSprat together give me an extra 1088K! $hareware.
Learn?!: A flashcard app. Freeware. Great for memorizing. Small
Catechism.pdb is a flashcard set to help learn the catechism.
MaxKey: A security app that locks your Palm unless your memory card is inserted.
No passwords required. Freeware.
MAClean: When syncing with a Mac,
especially with a memory card, the Mac puts certain files onto the Palm the
first time. This app will remove them. Perfectly safe, in my experience. If
you have a Mac & card reader, this is essential. Freeware.
MiniFlash: A $hareware Flashcard app. BiblicalLanguages Module available for it free (once you buy the app).
Noter: Not free, but
great for jotting down melodies on the fly & converting to MIDI.
You can also export to your alarms. I made separate alarms for the
liturgical year. I also use this for picking out hymns if I don't
recognize a tune & want to hear it. (I'm a lousy music reader.)
NOTE: Noter is no longer in production, but see NotePad below.
MiniMusic NotePad: Create MIDI on your
Palm and export to your desktop or memory card. Write music on your Palm, then
sync to your Mac or WinDOS desktop, and voila, you have the MIDI. Can also connect
directly to a MIDI instrument. $hareware.
Pane: Extract
dates from your Address Book custom fields and create datebook
entries. Great for birthdays, anniversaries, etc. Free
PRCPack: Compress your PRC files
and remove unneeded info. Works like a charm and frees up some RAM. Freeware.
Silence: Make sure the alarm
doesn't go off during a meeting or visit. Like a Mute button with a schedule.
$hareware.
TieMaster: Sometimes, you have to swap the tab for a tie. Here's
how. Includes a mirror. Free
TikTok: A timer
app. Free
TimeCopy:
Set your Palm clock to match your computer's clock every time you
sync. Macconduit available. Great for Macs with OS 8.5+'s Time Server
option. Keep your Palm always accurate to the second! Free
UnDupe: If you ever get
duplicates when sync'ing, you need this. $hareware, but if you have a
bad sync, it can save you hours.
WWCalc:
Mom walks into the bedroom and finds her son, Tommy, trying to
tighten his belt way beyond what's necessary. As she observes him
straining, she says, "Tommy! What are you doing?" He stops straining,
looks at his mother, and says, "I'm trying to get my belly to hang
over my belt like Pastor's does!" Sound like you? Me, too, so I
decided to do something about it. Weight Watchers has a nice home
program I invested in, and WWCalc is a handy tool to use with it.
It'll tell you how many points various foods are worth and how many
points you get each day. Grab the databases: Food
Companion and Restaurant
Databases. Note: you should only use WWCalc if you are a
registered Weight Watchers member.
X-Master: A free
alternative to HackMaster for installing hacks. My favorites:
ClockPop:
Time & all sorts of other info with a button press
DALauncher: DA's (Desk Accessories)
are apps you can use within other apps.
LClipDA,
which allows you to have multiple clipboards.
LookDA,
which will complete words for you (like the Mac "TypeIt4Me" & Now
Autotype)
ScrShot, which takes screen
shots in any app.
AkUtils: A handful of quick reference
utilities in one DA. Freeware.
Insidious Calculator: Calculate
without switching to the calc app
McPhling: A "Recent Applications"
menu
EasyLaunch: Switch to favorite
apps and all sorts of other commands with combinations of button presses or
stylus movements.
Crash: Prevents some freezes, allowing
you to reset if necessary without a paper clip.
SnapCalc: A pop-up calculator
so you don't need to leave your current app to do a quick calculation. Freeware.
ZipMeister:
Type in a Zip code, and it'll tell you what town it's from. Handy for
odd mail & some evangelism work.
---
Other Sites
PDA
Avenue: Palm news, forums, and downloads. Lots of great contests
& news. Also covers PocketPC & other handheld news &
forums.
Cliesource: For Sony
Clié users. One of the best forum & skins sites on the
web, even for Palm (non-Clié) users.
Palm Info Center:
Discussion forums for Palm users
Palm Pilot
Software: Lots of Palm Freeware
Brighthand: Palm news,
forums, and downloads.
PalmGear: The site
for downloading Palm software
Handango: The other
site for downloading Palm software
PalmTracker: Another
download site, especially popular among Mac users because it's part
of the VersionTracker
family.
Freeware Palm: Thesite for
all free Palm apps. Warning: Pop-up intensive.
pdassi: The European Site for Palm OS software,
also in Italian and Dutch
languages.