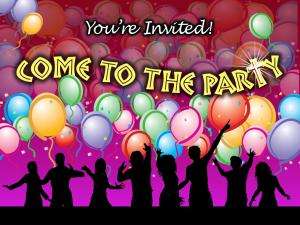 For a sermon series I did for Advent 2011. It's designed to use the first and last verses and choosing one of the middle topic verses, not to be sung straight through. Individual verses could also be used, such as a Magnificat substitute.
Celebration Hymn
Tune: In Thee Is Gladness
1
Come celebration, Glad exultation
Join the song of Zion here
Sing, choirs terrestrial, with saints celestial
Word in flesh with us appear
Incarnate lowly, yet ever holy
Lifted up gory, then raised in glory
To reign forever, Alleluia!
Offered for sinners to make us winners
Though we denied Him and crucified Him
He'll leave us never, Alleluia!
2 (Baby Shower: Mary & Elizabeth)
My soul rejoices; my spirit voices
In the Lord, Who saves my soul
He has concern for all those who yearn for
Israel to be made whole
'Til time's arrested, I'll be called blessed
God blessed the lowly. His name is holy.
Mercy paternal, Alleluia!
He shows His power, Arrogants cower.
He lifts the humble while mighty tumble
Promise eternal, Alleluia!
3 (Dinner Party: Last Supper)
Meal of redemption, Israel's exemption
Lamb's blood saved His people then
Promise renewed as traitors like Judas
Plot the Lamb to slay again
Body unleavened of King of heaven
Covenant blood, Thine, in and with the wine
For His remembrance, Alleluia!
Sinners forgiven, new life we're given
Into His Presence come kings and peasants
For our deliverance, Alleluia!
4 (Wedding: Cana)
Couple united, Jesus invited
Celebrate the wedding feast
Wine jars all finished, contents diminished
Celebration almost ceased
Mary comes pleading for Jesus leading
Water in jars poured trusting the Lord's Word
Wine transmutation, Alleluia!
Though in form humble for all who stumble
God come in person to take our curse on
Reaffirmation, Alleluia!
5 (Surprise Party: Epiphany) Wise men's arrival seeking the child
Traveling from lands afar
Stargazing sages seek King of ages
Following the Eastern star
Offer sincere their gifts to revere Him
Worship the One Who's God's only Son, too
Lord of all nations, Alleluia!
Though only crawling, to all men calling
Infant has come to die for the ones who
Face accusations, Alleluia!
6 (Birthday Party: Shepherds @ Jesus' Birth)
Angel appearing while shepherds fearing
Glory shines with holy light
"Fear not! I've good news for all from God, Whose
Words will give you joy this night
In David's city,God has shown pity
Sent you a Savior, given His favor
Laid in a manger, Alleluia!"
Angels come praising, their voices raising
Shepherds arrive, view all as described too   
Tell of this Stranger, Alleluia!
7
So lift your voices as earth rejoices
To the Lamb Who once was slain
For He has risen, opened death's prison
With us endless will remain
Give invitation to every nation
That all may follow and His name hallow
In each endeavor, Alleluia!
Let celebration bring transformation
Sharing His favor with every neighbor
To live forever, Alleluia!
Celebration Hymn by Strength and Song Publishing is licensed under a Creative Commons Attribution-NonCommercial-ShareAlike 3.0 Unported License.
LSBX file for Lutheran Service Builder