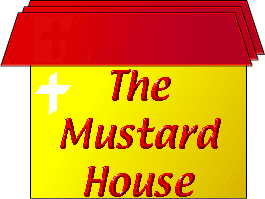 The Mustard House Project
A Different Approach to Lutheran Catechesis
(namely, sneaking up on it, grabbing it from behind, and tying it up so it can't get away)
Available Resources
Games
(Here's my idea: Shockwave games for play on websites. I have a few ideas, like a "Carmen Sandiego"-style game that teaches the geography of Israel and other prominent locations; also a "Click on the book of the Bible that comes first" game or a Pac-Man-style "Eat the words to the memory verse in order" game. I'm open to other suggestions.)
Music
Music files are all available for download at the Mustard House YahooGroups files page. Included there are sheet music and MIDI files for about half the catechism and several Bible verses, all put to TV themes, commercial jingles, and hymns.
Skits
Software
Video
How do I get involved?
If you would like to contribute to the project and/or have ideas to share, simply register for the Mustard House Discussion list. More information is available at YahooGroups.
–Rev. Dale Critchley, LCMSPastor.com
Webmaster & Mustard House Project Director