Mustard House: Lutheran Catechesis meets Godzilla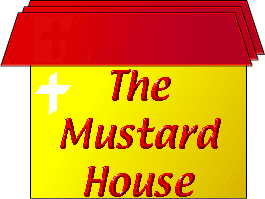 The Mustard House Project
A Different Approach to Lutheran Catechesis
(namely,
sneaking up on it, grabbing it from behind, and tying it up so it
can't get away)
What is it?
From Sesame Street Unpaved: "We knew that young children…liked cartoons, game shows, and situational comedies; that they responded to slapstick humor and music with a beat; and above all, they were attracted by fast-paced, highly visual, oft-repeated commercials…."

"…TV commercials helped make Sesame Street possible…anyone who knows what to do in Nikes, what your bologna's first name is, and what not to do with the Charmin, knows the power of commercials. But you probably don't know that the rapid-fire pace, slick production, and catchy music of television commercials inspired Sesame Street's unique look and appeal. …Kids like commercials and banana-peel humor and avant-garde video and audio techniques…we have to infuse our content into forms children find accessible."
The approach we're taking is not new. Children's Television Workshop has been doing it since 1969. But if they can pull it off successfully, teaching kids letters and numbers, why not apply the same teaching theory to Lutheran Catechesis?
Note that this is not just Sesame Street with new Lutheran scenes. In fact, this project is not a TV show or anything of that sort, although it may incorporate such in part. Instead, we use the theory behind Sesame Street: that you need to teach in a medium where the kids will respond and relate in order for them to learn.
What's up with the name?
Rev. Eric Zacharias proposed the name "Mustard Seed," playing off the Sesame roots and tying in Jesus' words in Mt 13:31, Mt 17:20, Mr 4:31, Lu 13:19, & Lu 17:6. I decided to build on this name and change "Street" to "House" to tie in with the Church and generate a feeling of "safeness."
Mustard House Teaching Theory
The Word of God is the key to teaching, and no matter what
method we use, the Holy Spirit will work through the Word to
create and strengthen faith in the hearer.
Through a combination of repetition and alternative media,
memorization can be made easier, more fun, and better
retained.
Each generation responds to different media with different
criteria. Determining the media appropriate for instructing youth
will increase learning.
Certain formats of media are more conducive to learning and
retention than others, and certain genres will last longer and
bridge generations better.
Teaching (and hence learning) will be enhanced as more of the
senses and various parts of the brain are used and applied to the
same concept. Interactivity, both mental and physical, is
crucial.
If the student is not paying attention, very little, if any,
learning will occur.
A student will be more attentive if he feels a personal stake
in the subject matter or sees it as applicable to his life.
There's little point in having correct doctrine if nobody
understands or knows how to apply it.
The method is always a means, never an end.
Mustard House Teaching Method
A variety of methods can be used for teaching. They include, but
shall never be limited to:
Music
Slogans and memorable phrases
Artwork
Drama
Video: both live action and animated
Games: Including all genres (Board, Card, Role-Playing, Video,
etc.)
Discussion
Lecture
Who gets the blame for this?
The Mustard House Project is a joint effort by a number of LCMS Pastors and laypeople. Rev. Dale Critchley is the coordinator.
How do you expect to pull this off?
By means of various resources such as Yahoo!'s
discussion forum and other cheap or free internet resources and
each participant's personal and congregational resources, and a whole
lot of prayer, we hope to make this program a success (although
"success" has yet to be defined).
Okay, bottom line, what's it going to ¢o$t
me?
Contributors need only pay for whatever resources they choose to
use in production. Essentially, your only cost is for an internet
connection and the equipment to access the various resources.
Those wishing to use the resources created by this group need pay
nothing. A goal of this project is to make quality catechetical
resources available to all at no cost. Everything will be free to
download.
Note that some materials may eventually come available in
non-electronic form (CDs, VHS tapes, DVDs, printed manuals, etc.).
Every effort will be made to make equivalents to these resources
available online in alternate formats, and the media will be made
available at or near cost of the actual media used. This endeavor is
not intended to profit anyone tangibly.
How do I get involved?
If you would like to contribute to the project and/or have ideas
to share, simply register for the Mustard
House Discussion list. More information is available at YahooGroups.
–Rev. Dale Critchley, LCMSPastor.com
Webmaster & Mustard
House Project Director